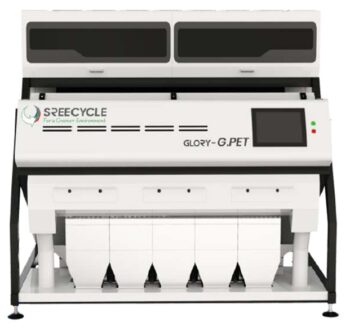 High-volume with multi-functional PET Flakes polymer sorter
Complete your Plastic recycling tasks with our featured PET flakes polymer sorter and get rid of PET (polyethylene terephthalate) plastic materials that come with automatic working or require manual labor, depending on the size and complexity of the task.
We also offer precision sorting capabilities and are operated to separate materials by size, shape, material, or color. Moreover, they provide an efficient and cost-effective way to recycle PET plastic materials.
NIR machines help in sorting PVC, PP, PE, ABS, Rubber, and aluminum from the PET flakes using infrared technology. It is useful when we are trying to sort flakes based on the materials and not the color.
Differentiate the performance sorting of PET Flakes by POLYMER SORTER
Color and polymer sorting of bottle flakes used to remove non-PET material, such as PVC/PS/PC/PA/PP/PE/ABS/ rubber/aluminum, etc. These sorters worked with light blue and light yellow PET flakes colored polymers under the CI series.
Most of our sorting machines are available in different sizes, which makes them easy to accommodate even in small spaces. Some of the things to keep in mind while buying these machines are
Capacity
Segregation efficiency
Acceptable flake size
Maintenance and operations costs based on mechanical components
Segregation of equipment according to the power efficiency (CI series)
| | | | | | | |
| --- | --- | --- | --- | --- | --- | --- |
| CI Model | Power (KW) | Voltage (V) | Air pressure (Mpa) | Air consumption (m3/min) | Dimension (L*W*H)(mm) | Weight (kg) |
| 6SXZ-300CI-GY | 4.6 | 180~240 50Hz | 0.6~0.8 | <4.5 | 2220×1700×2030 | 1700 |
| 6SXZ-480CI-GY | 7.0 | 180~240 50Hz | 0.6~0.8 | <6.5 | 3108×1700×2030 | 2000 |
Benefits of COLORED PET FLAKES POLYMER SORTING
Parallel color and polymer sorting to utilize a time frame
Simple machine functionality for customers to execute and operate
Précised and optimized to achieve a 1mm accuracy rate
Adaptable modern and promising industry design
Less consumption of energy required to support re-sorting methods
Conclusion
At the end conclusion they can be programmed to recognize and distinguish different types of plastic materials, helping to reduce the time and effort needed to manually sorted plastics. It is a big reason to use of colored polymer sorting machines has become increasingly important as the plastic recycling industry continues to grow.